NCCP
GO Membership
To register for a Gymnastics Ontario NCCP course, you must first be a registered member of Gymnastics Ontario. Member clubs are responsible for registering their coaches with Gymnastics Ontario. Your club administrator should be able to provide you with your GO Membership number.
GO Membership must be under a Coach or CIT role in order to successfully register for any NCCP course through Gymnastics Ontario.
If you are not affiliated with a club, please email a completed copy of the unattached coach form to membership@gymnasticsontario.ca or send via fax (647) 344-4816
The unattached coach form can be downloaded from the GO website under the Forms Tab.
Please note the new season starts on July 1st of every year. You or your club administrator will be required to update your GO Membership in order to sign up for any NCCP courses falling on or after July 1st.
The Locker - How to Obtain an NCCP Number
Coaches must create an account for themselves in the Locker prior to registration in their first NCCP course. This NCCP number stays consistent throughout their coaching career.
Certification Maintenance & Professional Development points will be tracked in 'The Locker'.
Head coaches and administrators have access to the Locker's Public Transcript.
The Locker "How-to" Guide can help first time coaches to register in the Locker and established coaches to locate an existing NCCP number.
registration process
You can register multiple individuals to multiple memberships/events during one checkout.
Note: Participant profiles must be added to your account before using this method of registration. Club Members, click HERE for more information. Individual Accounts, click HERE for finding an existing profile.
Log in to your account.
For NCCP courses, navigate to the NCCP Registration tab on the main navigation menu and select the course page. Available disciplines (Foundations Introduction and Foundations Theory are common to all disciplines.)

Active start (Pre-school - Foundations only)
Artistic: including Women's (WAG) & Men's (MAG)
Trampoline: including double-mini, synchro, tumbling
Rhythmic Gymnastics

Click on the NCCP course you would like to register for. If you cannot immediately find the course you are looking for, search the name in the Quick Search field or use the filter in the left menu.
TIP! Ensure sure that the coach being registered meets all of the course requirements.
Click the "Register" button beside the course.
TIP! If the event is full and a waitlist is available, you can join the waitlist. More information is available below.
Select the participant that will be registering for that membership/event. If you cannot immediately find the name, start typing in the name field to quickly filter the participant names.
The system will ask for the NCCP number and unique email for each participant, so make sure that you have both on hand.
Once you have selected the NCCP course(s) you will be registering for, click on "Shopping Cart" in the top menu.
Confirm the registrations in your shopping cart. If the registrations are correct, follow the three steps of the checkout: (i) Contact Information, (ii) Billing Information, and (iii) Payment Information.
Once the payment has been approved, a "Registration Invoice" receipt will confirm the registration is complete. The invoice will also be posted to in the account. To view the invoice status, navigate to My Account by clicking on your name in the top right.
Note: Items will remain pending in the shopping cart until checkout is complete or the cart expires. Administrators have 1 hour to return to a pending shopping cart to complete the checkout. After 1 hour, the checkout will expire and all items will be removed from the shopping cart.
How to Access Digital Coach ID on Uplifter
Either a club or coach can access a coach's digital Coach ID on Uplifter. The digital Coach ID is only available to competitive coaches who are a minimum of Competition 1 Trained or Level 2 certified and are requiring access to a Gymnastics Ontario competition floor. The application form must have been completed and you need to have received an email confirming your digital Coach ID is ready. To access your digital Coach ID, it is a two-step process.
First, you need to Attach the Coach's Participant Profile
For Individual accounts, if you have already registered yourself as a coach for an Uplifter course, your profile should already be attached. You can now proceed to the next step, Accessing the digital Coach ID.
For club accounts, if you registered the coach, the coach's profile should already be attached. You can now proceed to the next step, Accessing the digital Coach ID.
If you haven't attached the coach's participant profile:
Login to your Uplifter Account

If you do not yet have one, you will need to create one.

Participant profiles must be added to your Uplifter account before being able to access the digital Coach ID. To do this you will need to use the Find an Existing Participant Profile feature. The video above shows how to do this or follow the following steps.
Navigate to My Account>> Participants >> Find Participant
Fill in the required fields.
Note (for Club Member Accounts): When looking for an existing profile you will be required to enter the GO# but the number does not have to match in order to find a possible match. If you do not know the GO#, enter any character into the field so the search can start.
Note (for Individual Accounts): When looking for an existing profile you will be required to enter the GO#. Make sure to get this information from your club before proceeding.
Click FIND PARTICIPANT.
After clicking FIND PARTICIPANT, the program will run a search for possible existing profiles. If a profile with similar (or exact for Individual Accounts) information has been found, the participant profile will be added to the account.
Note: Once the profile is added to your account, you may have to refresh the page before the profile appears in the search Filter.
If clicking the FIND PARTICIPANT button returns an error message or the GO# is being used by another participant, this means that individual either (i) does not have an existing profile OR (ii) the details you have entered do not match their existing profile. If this occurs, contact the club that created their profile to confirm the information they used.
To see a video detailing these steps, scroll above the section How to Access a Coach ID on Uplifter title.
Second, you need to Access the digital Coach ID
Once the participant profile is added, click on the coach's participant profile. To do this, navigate to My Account>> Participants
You can scroll through the list of individuals or click on FILTER PARTICIPANTS BY to open the search.
Begin typing the name in the "SEARCH FOR PARTICIPANT" field.
Click FILTER to start the search.
Click on the coach's name to access their participant profile.
Scroll to the bottom and you will find the digital coach ID. You must be able to show the following categories:

Coach Photo
Coach Name
Coaching Level
NCCP Number
Other Requirements
Expiry Date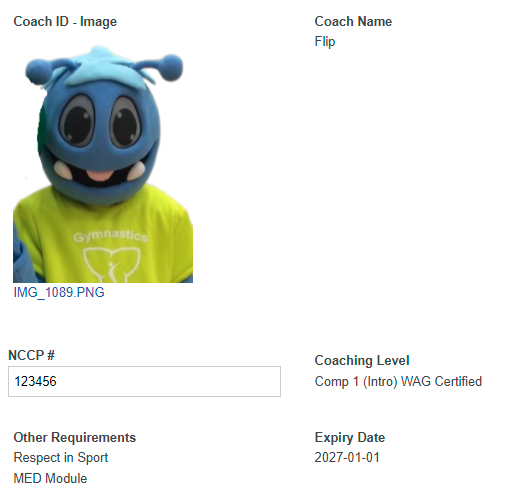 There are three options to show this ID at competitions:

Login and show this page live
Screenshot this page and show it on your device

Please check your own device's instructions on how to screenshot as it is different depending on how you are doing so (ie. laptop (Windows, Mac, Chrome), tablet, or phone)

Print the screenshot yourself and present the hardcopy
Please note Gymnastics Ontario will not provide any hardcopies or digital files. The club and/or coach are responsible for obtaining either a hardcopy or digital copy.
Coaches, if you are having trouble accessing your participant profile and digital Coach ID, please speak to your club administrator. However, if you filled out an application form and received an email confirming that the coach ID was created and do not see it on your participant profile, please contact Beth, the Membership Services Manager, at membership@gymnasticsontario.ca.
Waitlisted Programs
Once a program is full, you will no longer be able to register for that event; however, if a waitlist is available, you will be able to JOIN WAITLIST. You can review the program you are waitlisted for by navigating to your account (by clicking on your name in the top right corner) and clicking on Waitlists. Here you can see the event you are waitlisted for, your position and if necessary, can remove yourself from the waitlist by clicking on the trashcan icon.

If a spot becomes available, the person at the top of the list will be contacted by email. Once notified, you will have two (2) days to complete the registration. If you do not register on time, you will automatically be removed from the waitlist. You will be contacted by email if you are removed from the waitlist.
Preparation for NCCP courses
Most NCCP courses are active courses. Come dressed in active coaching attire, ready to participate.
If you do not have transportation, please bring water and food as it is not provided on site.
Ensure that you have your NCCP Number on hand at all courses.
Competition Stream Courses require access to the Learning Management System (LMS), make sure you have reviewed the material prior to the start of the course. You may choose to print off the course material or bring a Tablet/Computer with you to the course. The use of cellphones is not recommended to view the material, as they cannot properly display the course content.

You will receive an email a week before the course with instructions
If you are having trouble with your LMS account, email LMS Administrator Marie-Pier: mpblais@athlek.ca
Late Registrations
If you are signing up for a course within 5 business days of the start date, you may not receive a manual at the course. Coaches will be responsible for emailing Gymnastics Ontario with their mailing address, phone number, date/location of the course(s) and title of the manual(s) that were not received at the course. Coaches registering within this time period should bring their receipt as proof of payment to the course to ensure they receive a certificate of completion.
Please note that Competition Stream course registration will close 5 days prior to the start of the course.
Payment Method
Gymnastics Ontario NCCP course registration must be done online. Valid forms of payment include, VISA, MasterCard, and VISA Debit. GO does not accept payment by cash, cheque, Amex, or money order.
Registration will not be secured until payment has been processed.
Please carefully read terms and conditions upon check out for additional information.
For outstanding invoices, please follow the steps below to settle payment:
Log into your account at https://gymnasticsont.uplifterinc.com
Hover over your name (top right) and select My Account
Review the owing balance under the Account Status tab
Click Make A Payment
Check the owing balance(s) you wish to pay for
Select your desired payment method and click Pay Account Balance
Fill in your card details and finalize the payment
NEW! SAVE PAYMENT METHODS
Administrators have the option to save
payment methods
to the account. Payment methods can be saved during checkout or from the club account page. Please visit Uplifter's help page for instructions on how to add, update, and remove a payment method:
Credit cards on account
.
Currently, the only payment methods that can be saved are credit cards (Visa and MasterCard).
FREQUENTLY ASKED QUESTIONS
Does Uplifter save user card data?
Can other administrators in my club's account access each other's cards?
Yes and no. Since we have enabled the "Shared Account" setting you will have the option of selecting to share saved payment methods. This is done through My Account > Account > Saved Payment Methods where you can select the Share option next to any saved payment methods.
https://gymnasticsont.uplifterinc.com/pages/help/invoices/#SaveCreditCard
Additional NCCP Resources
Questions?
If you have further questions, please contact the Gymnastics Ontario Education Program Manager at education@gymnasticsontario.ca.